School Ministry is part and parcel of SVD evangelization method. In addition to the creation of Parishes, many schools were established from primary to vocational, technical and Secondary Schools.
Many primary schools were established especially in the remote areas of the country offering quality formal education to the downtrodden. Most of these schools have been absorbed by the Ministry of Education. Some of the Secondary Schools started by the SVDs have also passed onto the Dioceses where we have been working. However, there are a few which are still being run by the SVDs. These are:
– St. Martins Senior High, Adoagyiri-Nsawam
– St. Peter's Senior High, Nkwatia-Kwahu
– St. Paul's Technical, Kukurantumi
– St. Margaret Mary Senior High, Dansoman
St. Paul's Technical, Kukurantumi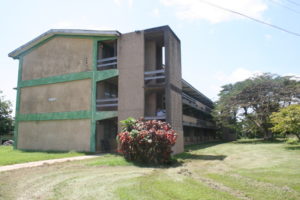 St. Paul Technical School was established in 1957 by the Society of the Divine Word (SVD) Missionaries of the Catholic Church in Ghana. It was indeed the first Technical School ever established in Ghana by the Catholic Church to train the youth to acquire employable technical skills.
The three men who toiled to get the school started were the Rt. Rev. Bishop J.O. Bowers, the then Bishop of Accra Diocese, Rev. Fr. John Harpel, the first Principal of the school and the late Nana Kwabena Kena II, the chief of Kukurantumi and Adontenhene of Akyem Abuakwa who did not only release the land but also mobilized his subjects in clearing it through communal labor.
Rev. Fr. Harpel started the school with eighteen (18) students under the shelter of a deserted U.T.C. stores which he used as a classroom. The course offered was Blocklaying and Concreting which he later incorporated with Carpentry. There were no workshops for practical work but the students did their practical work with a private contractor who was by then building the Catholic Mission House. Fr. Harpel was initially assisted by a German called Mr. Schutty and four Ghanaians.
Out of the eighteen pioneers, fourteen were able to graduate in 1960 with the School Diploma.
By 1960, the first classroom, now the administration block, and the science block had been built. The classroom block was a multi-purpose block . It was used partly as a classroom and partly as a workshop with only one small machine—a combined planer cum cutter.
The 1960's saw a rapid expansion and development. With the introduction of other courses: Auto-mechanics, Electrical Installation and Mechanical Engineering, many buildings and workshops were put up with corresponding increase in staff and student population. In 1962 the boarding house was opened with 20 students.
The school continued to award Diploma Certificates to its graduates until 1969 when it registered with the City and Guilds of London for the final examination.
Under his policy of 'quality but not quantity', Fr. Harpel laid a solid foundation for high academic standards and strict discipline both in the staff and students.
In 1970 Rev. Fr. Harpel, who had worked in the school for thirteen (13) years handed over the administration to Rev. Fr. Joseph Sprehe who had started teaching in the school in 1968. Fr. Sprehe rapidly improved the infrastructure of the school making it one of the best equipped technical schools in the country. Workshops were equipped, standard classrooms and library constructed, playfields prepared, beautiful landscaping and other works were done. He kept strongly to the policy of quality education and did all he could to put St. Paul in an enviable position of academic excellence and a school noted for high discipline.
The school remained a private mission school until 1973 when it was absorbed by the Ministry of Education, Youth and Sports into the Public Education System.
From 1979, the school started offering the Pre-Technician, Advanced and Technician Courses.
In 1993, after serving the school tirelessly for twenty-five (25) years, Rev. Fr. Sprehe left the school for another missionary assignment in Ghana and handed over the school to Mr. Stephen Godomey. Bro. Peter Edze is the current Principal.(read more)