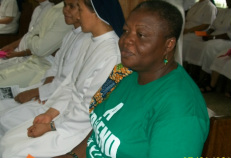 Helena Dzikunu, the president of Friends of SVDGhana was nominated to represent our lay associates of Africa at the just ended 17th General Chapter of the Divine Word Missionaries. She shares her experiences:
Being a Rep of Africa, I was completely overwhelmed by the invitation because Friends of SVD at St Margaret Mary based at Dansoman, in the capital of Ghana, did not start very long ago and there I was representing Africa. It was like a dream especially for me because this was a meeting that many SVD confereres will never attend in their life time and there was I, a lay person attending such an important assembly.
I have always liked the SVD because of their humility. Most SVD priests I have come into contact with are so humble. It was the same at the 17th General Chapter. I felt completely at home among all these men. In fact, we were only two women among the 125 capitulars. In the chapel and in the conference room as well as during sightseeing we were only 2 women among the Priests and Brothers; can you imagine that? I did not at any particular moment feel uncomfortable. We were so welcome with such cordiality at the highest level. All the confreres were so friendly. We were accepted as part of the pack so to speak. One could not distinguish between the provincials and those at the Generalate.
It has been an experience that will live long in my memories.
In fact, this experience has made me to love and to work to support the SVD more in their various ministries.