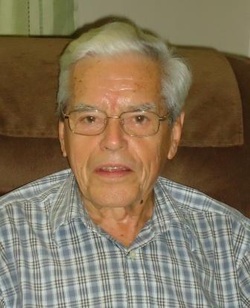 The mortal remains of our confrere Br. Tarcisius, SVD the founder of the Orthopaedic Training Centre,(OTC) at Adoagyiri who died on the 15th of January 2014 was laid to rest after a funeral liturgy at St. Joseph's Catholic Church at Adoagyiri.
Brother Tarcisius (Christopher Adrianus) de Ruyter was born in the Netherlands on December 4, 1925 into a family of shoemakers. He learned shoemaking as he grew up, but initially turned away from it as he entered the minor seminary in Soesterberg when he was 12. His seminary studies were interrupted by World War II when the seminary was closed. He worked in an office for some time, but wanted more. He returned to the SVD and entered novitiate as a brother in 1944, professed first vows in 1946, and then continued his training in shoemaking and physiotherapy. He also earned a diploma in teaching.

He arrived in Ghana on 14 May 1961 and quickly set up a shoemaking shop at Adoagyiri to train brother candidates. He also started making prostheses for polio victims and others who were physically challenged. In 1962 he was called to make special shoes for the son of the Prime Minister of Ghana. Soon after that he started his mobile clinic, which still travels thousands of kilometers around Ghana every year, to meet people near where they live to treat them.

His Centre was called the Orthopedic Training Centre (OTC) because the main purpose was to train others in orthopedics and the making of orthopedic devices, not merely to treat people at the Centre. The Orthopedic Training Centre quickly became well known as the foremost Centre for orthopedic treatment in West Africa. With the opening of the Divine Word Prosthetics and Orthotics Training College, in conjunction with the Kwame Nkrumah Institute of Technology, in 2013 it maintains its position as the premier training centre for orthopedics in Africa.

Over the years Brother Tarcisius continued to study and improve his own qualifications and abilities as an orthopedic therapist. During the 1960s, 70s and 80s on every home leave he had he spent time visiting orthopedic hospitals, taking courses and updating himself in other ways. He was invited to and attended many international courses, conferences, workshops etc. sponsored by UNESCO, various National governments, and others, on orthopedics, orthotics, and prosthetics. He also received many awards for his work over the years including State Honors from Ghana, a Knighthood of Orange-Nassau from Her Majesty the Queen of the Netherlands, the Rotary Club, and others.

Under his guidance, and by people trained by Brother Tarcisius himself, the OTC produced calipers, artificial arms and legs, braces and splints for orthopedic patients in Ghana and trained many local people to make them and treat patients. He worked with all the important hospitals in Ghana: Accra, Kumasi, the leprosaria at Ho, Ankaful and Kokofu. He set the standard for excellence in orthopaedic care for Ghana and West Africa.

In his later years, after several heart attacks and strokes, triple bypass heart surgery and a pacemaker, he himself needed orthopedic assistance, but did not stop his work. He continued to see patients at the OTC until his last day.

About 10:00 a.m. on Wednesday 15 January 2014 brother complained about not feeling well. He was immediately taken to a private hospital in Nsawam, put on oxygen, seen by a doctor and treated. However he didn't recover and at 12:45 passed from this life.

Divine Word Missionaries of Ghana, and many others, will miss him sorely. May he rest in peace.