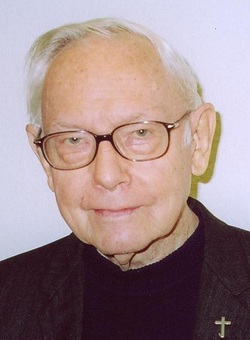 At the dawn of Sunday, 18 August 2013 our beloved and great missionary in the Ghana Province Fr. Martin Wels was called to Glory in our retirement house St. Wendel – Germany. In the presence of some of our confreres he peacefully handed his life over to his creator. He was 91 years old.

BURIAL

His mortal remains was then laid in state in the "Totenkapelle" (mortuary chapel) till Thursday where one could visit and show ones last respect to him and also pray for the repose of his soul. The burial Mass took place on Thursday, 08/22/2013, at 2:30 pm in the church of the Mission House in St. Wendel.

The mass was presided over by Fr. Conrad Fabian, SVD, the mission secretary for the German Province and was concelebrated by Frs. John Prempeh, SVD, Matthias Helms, SVD, Stephen Duodu (Chaplain to Africans in Saarbrücken) and other confreres. In attendance were also his relatives, benefactors and benefactresses, confreres from St. Augustin – Br. Franz Schneider among others, our confreres in St. Wendel – among them were Fr. Mushoff and Br. Paul Plawky- friends and well wishers.

In attendance was also a Ghanaian friend of Fr. Wels who had come from Munich. Originally coming from Accra the gentlemen is now a business consultant for companies in the south of Germany. In a noble manner he represented Fr. Wels´ friends from Accra.