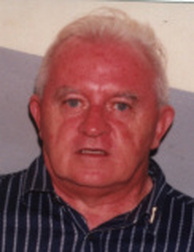 The death is reported of our confrere, Bro. Patrick Murphy who worked for many years in our Province before returing to his home country, Ireland to retire. He died on Tuesday 31st May, 2011 in Ireland.
Below is a chronicle of his life.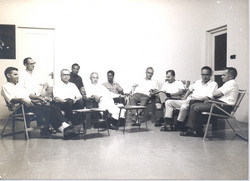 1934 Jan 2 Born in Cork City, Ireland
1954 Entered SVD novitiate
1956 First vows with the name Brother Augustine
Perpetual vows
13/06/1967 Appointed to Ghana
12/12/67 Arrived in Ghana, Stationed at Regional Guest
1/4/1968 Transferred to St. Peter's Nkwatia
August 1968 Returned to Regional House as Guest Master
During his time at the Regional House he was also assisting Fr. Turbek at Mamprobi.
1975 Nemi Course and home leave in Ireland
1979 Jan 17 Transferred to St. Martin's, Nsawam
1980 Mar 24 Appointed to Martyrs of Uganda Parish, Mamprobi as assistant to Fr. Turbek
1986 In Ireland for six months of sick leave
1986 Sept 22 Transferred to Sacred Heart Parish, Derby Avenue, Accra
2002 June 10 Transferred to McCarthy Hill
2002 Jan 2 Transferred to SVD Guest House, Adabraka-Accra from Tesano. (No record of his appointment to Tesano in his file).
August 2004 Transferred to Ireland for retirement
31 May 2011 Died in Dublin, Ireland
Tributes
HI, Pat was my great grand uncle on my fathers side(Richard Murphy) Growing up i can always remember when pat would return home and stay with us. He always brought art work home with him from Ghana. He was always telling us stories about Ghana. If i was to remember anything about pat it would be that he had a great memory. I could have told pat something very small a long time ago and he would always ask you about it, be it three years later, even in his last few hours Pat was asking for all the family and he knew where everyone was and what they were doing with their lives.
Bro Patrick Murphy will be deeply missed by all his family here in Cork and Kerry.
R.I.P The Memory man
Shane Murphy
Thank you SVD Ghana for this tribute page for Bro Pat.
Liam SVD IBP mission secretary.
Bro Pee,as we affectionately called him was a good friend and a Godly man. He served God's people in Ghana for many years . I met him while he was stationed at Sacred Heart Parish and love him right away . He called me his granddaughter and I called him grandpaa despite our age difference we fostered a friendship that was simple, true and pure . The time that I spent having afternoon tea with him I will forever treasure. Brother Pee , Grandpaa , I love you , rest in the safe hands of GOD. Home at last my dear friend. We will miss you
REST IN PEACE.
Gloria Martey